Background: ESR has sampled Social media – viral trail on 'protected characteristics' as laid out in Equalities Act 2010.  We collated some 41 reports and discussions, and after some rudimentary scorings, have taken a view that Equalities Act 2010 'Is Not Breathing' i.e. under suffocation.  To share this concern, we were persuaded to invoke one article that headed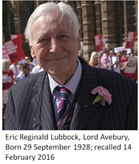 '…Lord Avebury was a giant in the struggle to outlaw Caste-based discrimination in the UK…'  The aim here is to account on the state of Equalities Act 2010, in the name of, and to Lord Avebury, who passed away in Feb 2016.  His quoted comment about the end of his BREATHING "…may be I should leave my body to the Battersea Dogs Home…", made us go further to posit, that this statement may have been a result of suffocation by all sorts of discriminations dovetailing into Equalities Act 2010, through his efforts.  If we may add, he may have so felt that the dogs would possibly benefit better, an indictment to progress made to stem all sorts of discrimination.  ESRL's last word on this is:
'…Farewell thee, Lord Avebury, to ESRL, you have walked in the footprints of William Wilberforce, Mahtama Ghandi, Martin Luther King, Nelson Mandela…'
The Score: After some sieving of the viral trail using a SWOT analysis, ESRL is anxious that Equalities Act 2010 '…Is NOT Breathing…', hence the following summary:
Strength: = 6 (15%) topics out of 41: The narratives on these were laced with soft describing words, and had to dig four levels deep to find them. Here are the select of descriptions, all pointing towards some degree of begging to keep Equalities Act 2010 'breathing':
'..need to standardise rules for investigating discrimination; – ; suggesting some degree of begging
'…resources are limited;
'…need to redesign rules for social engagements;
'…there should be penalties and liabilities attached to discriminations…';
'…treated less favourably …' to repackage as into three components i.e. Direct, Indirect and Remote';
'…Stand-up against all sorts of discrimination…'
'…Good practice in policy making and policy implementing levels sensitive to protected characteristics…'
'…Long live Lord Avebury…'
Weakness: = 8 (19%) topics out of 41: The narratives on these were laced with fear-expressing phrases, and only had to dig one level deep to expose their fangs. Here are the select of gate-keeping descriptions ala fierce dogs, keeping 'Strengths' and 'Opportunities' at bay or buried.
'…Law suit is to establish what the Law says…if you lose…!! … another Law suit follows…' – suggesting necessary financial muscle.
'… 'Protected characteristics' is about phobia and ignorance …' suggesting blaming mental health impairment.
'…Protest to retain legal protection, otherwise it will be reversed….' – suggesting too many loopholes.
'…why discriminate me and not the others…' suggesting a contest to gain advantage.
'…is 'Protected Characteristics' about 'Scrutiny' or 'Enforcement'…' suggesting seeking to fix the agenda i.e. a particular agenda; a neutral agenda; a harmonising agenda; etc.
'…no ground to address concerns…' suggesting strengthen the case for 'Protected Characteristics'.
Opportunities = 7 (17%) topics out of 41: The narratives on these were laced with soothing phrases and had to dig two levels deep to find them. Here are the select of soothing words and phrases:
'…A protected person is not only natural…' suggesting body corporate, hidden loopholes, etc.
'…standardise rules of investigating discrimination…' suggesting links to resources allocation, redesign social engagements, redesign penalties and liabilities.
'…make economic sense…' suggesting involving financial wizards on potential to make money i.e. deepen the skills reach, widen schools of thought; buy in branding as a product.
'…should include familial status…' suggesting close legal loopholes on vulnerabilities in other duties or commitments; captures of hidden discriminations. Etc.
'…Check out footprints on protected characteristics…' suggesting it is not walking alone or not a lonely walk.
' Data analytics …' suggesting keeping an eye on technology i.e. to delegate it the function of offering burden of proof.
'…dynamic living…' suggesting keep up with change of circumstances or reasonable adjustments for both employer and employed.
'…benchmarking …' suggesting cross-cultural standards using PESTILE tool in the analysis.
'… discrimination by association…' suggesting tapping into conscientious objectors, social accountability discourse.
Threats: = 20 (49%) topics out of 41: The narratives were laced with menacing hard hitting wordings, weighted by the number 20 oppressing or suppressing all the above. Here are the select of words and phrases met while digging:
'…'person' is not clear…' towards body corporate at centre and not natural person i.e. commodify the word so that money can be made.
'…review census questions…' towards privacy protected and there is a potential for public rejection on identifying 'protected characteristics'.
'…referendum on values to overturn inadequate laws…' towards the championing of values, and not discrimination.
'…blame the law for repressive laws repressive…' towards sell date expired stamp on 'protected characteristics'.
'…should be a hate crime…' towards to remove involving the law to establish discrimination but public opinion to address wayward behaviours.
'…end non-legal engagement excluded…' towards unpaid engagements i.e. social, cultural, political, activities excluded.
'…incentify the organised groups involved in lobbying…' towards power play of the weak versus the strong; create a distance between those nearest or accessible to resources allocation to be strengthened and those furthest to be weakened.
'…opinions on discrimination practices are misguided…' towards the downgrading of vocabularies such as 'representative of community'; disadvantaged background; support for diversity because they inform the opinions.
'…social media profiling…' towards hiding discrimination practices; circumvent the law under 'plausible deniability'; circumvent legal bench access to offending data.
'…Data analysis…' towards element of mining privacy, anonymity, data selling, blackmail, fraud i.e. out of mind out of sight.
'…involve financial wizards in financing the challenges of protected characteristics…' towards commodifying 'protected characteristics' to be sold to the highest bidder, and no social accountability.
'…a Bill to protect transgender…' towards anatomy-centred and not race 'protected characteristics.
'…a Bill to protect gypsies as a race …' towards downgrading a generic race-centred 'protected characteristics'.
'…a Bill to protect terminal illness…' towards financial wizardry to downgrade down grade protected characteristics special protections and downgrade race.
'…a Bill for Anti-gay….' towards downgrading foundation of discrimination by stealth.
'…retaliation claims …' towards engaging in activities when outside protected characteristics.
'…myth about positive discrimination…' towards case-studies on impacts of 'affirmative action; equal opportunities; positive discrimination; lack of opportunities; i.e. buy time.
Jack Alecho-oita, a Director at Equalities Sensitivity Rating Ltd comments as follows: On balance, the words and phrases being used in the collated viral footprints has given away the game on the challenges ahead for the next or emerging champion standing up against all sorts of discrimination. The footprints of Lord Avebury, Nelson Mandela, Martin Luther King, Mahatma Gandhi, and William Wilberforce, at least have been large and heavy, suggesting that ESRL work is cut out. To this end, ESRL has to be in this for the long haul, and appeals to the willing to enter into a coalition to lessen the stranglehold suffocating the Equalities Act 2010 so that it can breathe easier.
Editors Notes:
1. Mr Alecho-oita is available for interviews on 0044-798-459-4876 or jack.a@equalitiessensitivityrating.com.
2. ESRL can be mailed at info@equalitiessensitivityrating.com Below are sampled sources on Social media – viral trail
The top 5 manager mistakes that cause lawsuits
Are limited companies able to claim discrimination?
UK: Companies May Claim Compensation For Unlawful Discrimination
Corporate entities can bring claims for discrimination
Charities, not just people, are protected from discrimination
http://thirdforcenews.org.uk/blogs/charities-not-just-people-are-protected-from-discrimination
Scotland's next census may ask Scots about their sexuality
Major LGBT rights ordinance put to the test in Texas
Bathroom Fears Flush Houston Discrimination Ordinance
Houston Voters Defeat Controversial 'Transgender Bathroom' Ordinance
http://www.christianpost.com/news/houston-voters-defeat-controversial-transgender-bathroom-ordinance-149171/
Rejecting HERO in Houston
HUD Proposes to "Formalize" Definitions of Harassment and Expand Fair Housing Act Liability
Holy See: Hate crimes against Christians under-reported